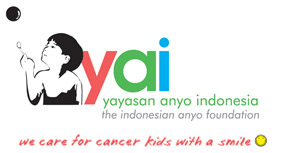 Lending hand to children with cancer
The Indonesian Anyo Foundation (YAI)
The Indonesian Anyo Foundation is a non-profit, inter-ethnic and inter-faith social organization, established in Jakarta on June 27, 2012.


The foundation is named in honour of Andrew Maruli David Manullang (Anyo), the son of YAI's founder. Anyo passed away on December 7, 2008 due to leukemia/blood cancer. The founder wants to continue Anyo's spirit to help Indonesian children with cancer fighting for their lives, especially those come from unfortunate families.


YAI program includes to providing a shelter house called 'anyo house' for children with cancer from various regions throughout Indonesia, seeking treatments at a referral hospital in Jakarta.


anyo house can accommodate 18 (eighteen) patients and their companions.


anyo house located at Jalan Anggrek Nelli Murni A110, Slipi, West Jakarta. It is closed to "Dharmais" Cancer Hospital. The Administration fee is only IDR. 5,000/day/family (around 50 cents US dollars). However, if they cannot afford it, it is free of charge. The fee includes meals and daily necessities for patients and companions.


In 6 years since its establishment, 240 patients have stayed in anyo house, but 72 of them have passed away.


anyo house does not provide certain medical treatments, it is only a shelter house.


Other YAI's programs: education on children with cancer. YAI is available for invitation to share knowledge by any communities in Jakarta and its surroundings and other regions throughout Indonesia.


An educational book titled "Beware & Understand Childhood Cancer at Early Stage" is facilitated by YAI and distributed free of charge to the community to save children's lives from cancer.


'Guide book on Early Detection of Childhood Cancer'is facilitated by YAI and to be granted to 10,000 primary healthcare [Puskesmas] throughout Indonesia, with purpose to educate medical personnel at Puskesmas will have sufficient knowledge so as to early detection of cancer symptoms in children and they can refer the patients to the hospital for further treatments.


Educational video on leukemia and educational video on retinoblastoma are facilitated by YAI and available on Youtube.


In 2015 YAI started the program '1,000 Ophthalmoscope Movement'. An Ophthalmoscope is a retinoblastoma screening tool.1,000 Ophthalmoscope will be donated to Puskesmas throughout Indonesia. The goal is not only to save lives, but also to save the eyes and vision of children with eye cancer (retinoblastoma).
You can support us through Yayasan Anyo Indonesia bank account details:
Bank Mandiri, account no.: 164 0000 582421, swift code: BMRIIDJA
BCA, account no.: 084 524 4010, swift code: CENAIDJA