Hard fight: Combatting childhood cancer in Indonesia
Lending hand to children with cancer
The Indonesian Anyo Foundation (YAI) is a non-profit social foundation, established in Jakarta on 27 June 2012.
Anyo is the nick name of late Andrew Maruli David Manullang, son of the founder of YAI. Anyo died on December 7, 2008 due to leukemia. Through YAI, the founder wants to continue the spirit of Anyo to help Indonesian children who are still fighting against cancer, especially from poor families.
Because the problem of cancer in children in Indonesia is still complex, therefore YAI comes with the vision to invite anyone who cares to join hands together to help children with cancer, and its mission is to ease the burden on families whose children have cancer.
To get access and information about cancer in children from various countries around the world, YAI becomes a member of CCI, the worldwide organization for parents of children with cancer, and every 15 February YAI participates in commemorating the International Childhood Cancer Day (ICCD) and every September campaigns as Childhood Cancer Awareness Month.
YAI program is to provide Rumah Anyo a temporary housing for children aged 0-18 years. They come from various regions in Indonesia for treatment at a referral hospital in Jakarta. The house is located on Jalan Anggrek Nelli Murni VIII A 40, Slipi, West Jakarta, within walking distance to Dharmais Cancer Hospital.
Rumah Anyo can accommodate 12 patients and their companions.
No cost to stay at the house. Food and daily necessities are provided by YAI.
We hope that Rumah Anyo can help patients and their companions to stay enthusiastic in undergoing the long cancer treatment process.
Apart from Rumah Anyo, YAI's other program is education about cancer in children to the general public and also to medical personnel at the puskesmas (primary health care). During the pandemic, education is held virtually. YAI provides educational books about cancer in children for the general public as well as medical personnel at the puskesmas. And also videos on leukemia, retinoblastoma which can be accessed on the gallery menu of YAI's website.
If you want to support, kindly send your donation to Yayasan Anyo Indonesia bank account
BCA no. 084 524 4010 swift code: CENAIDJA
or Bank Mandiri no. 164 0000 582421 swift code: BMRIIDJA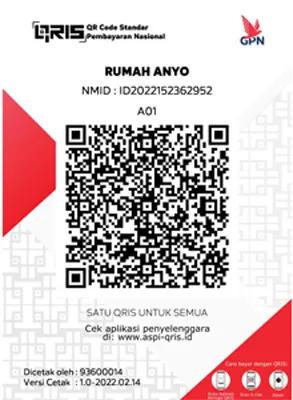 Thank you for your kind attention.
The Indonesian Anyo Foundation (YAI)
@yayasan_anyo_indonesia
WA +62 811 8013 775
www.yai-indonesia.org
Youtube channel: Rumah Anyo
#20to60in2030
#supportkidswithcancer
#care2cure